Did you know that there is assistance available to help with the costs associated with Medicare?  Did you know that there are many preventative services available under Medicare Part B?
Congress enacted into law the Medicare Improvements for Patients and Providers Act of 2008 (MIPPA) on July 15, 2008.  This legislation contains several important provisions that directly change the Medicare Program.  Changes include suspended payment cuts to health care providers, changes in the asset and income limits for Low Income Subsidy Plans and Medicare Savings Plans, new accountability measures for Medicare Advantage programs, and increased access to preventive and mental health services.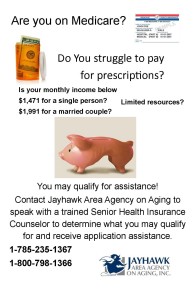 Extra Help is available if your income is at or below $1471 if you are single or $1991 if you are married and your resources are at or below $13,440 if you are single or $26,860 if you are married.  Resources DO NOT include your primary residence or your vehicles.  Depending upon the level of help you may qualify for you can receive help paying one or more of the following:  Medicare Part A, B, and D premiums, copayments and deductibles.  You will also not have a coverage gap or "donut hole" with your Medicare Prescription Drug Coverage.
Medicare covers a one-time preventative visit within the first 12 months that you have Medicare Part B–a great way to get up-to-date information on important screenings and shots as well as visiting with your doctor about your family history and how to stay healthy.
The following services are covered under Medicare Part B Preventive Services
Abnormal Aortic Aneurysm Screening
Alcohol Misuse Screening and Counseling
Bone Mass Measurement
Breast Cancer Screening (Mammogram)
Cardiovascular Disease Screening
Colorectal Cancer Screening
Fecal Occult Blood Test
Flexible Sigmoidoscopy
Colonoscopy
Barium Enema
Depression Screening
Diabetes Screening
Diabetes Self-Management Training
Flu Shots
Glaucoma Tests
Hepatitis B Shots
HIV Screening
Medical Nutrition therapy Services
Obesity Screening and Counseling
Pneumococcal Shot
Prostate Cancer Screening
Sexually transmitted infection screening and counseling
Tobacco use cessation counseling (for people with no sign of tobacco related disease)
Yearly "wellness" visit