Jayhawk Area Agency on Aging has both a Board of Directors and an Advisory Council. The Board of Directors is the governing body, appointed to establish policy for the AAA and to develop procedures for carrying out those policies. The Advisory Council is charged with furthering the agency's mission of developing and coordinating community-based systems of services for all older persons in the planning and service area. Both are essential components with the Board often relying on the Advisory Councils' input and recommendations as part of the decision-making process.
The basic differences between boards and advisory councils include:
Board sets policy/Advisory Council advises on it;
Board hires AAA Director/Advisory Council reviews resumes and makes recommendations; and
Board supervises AAA director/Advisory Council and offers advice and assistance.
Jayhawk Area Agency on Aging's Board and Advisory Council are comprised of representatives from our planning and service area of Jefferson, Shawnee, and Douglas counties in Kansas. Representatives are appointed by the various city and county governments in the planning and service area.
The Board of Directors meets monthly on the second Thursday of the month at 10:00 am. The meeting place rotates between the Shawnee, Jefferson, and Douglas Counties every three months and is listed on the agenda.
The Advisory Council meets monthly on the first Tuesday of the month at 9:00 am. The meeting place is held at the JAAA office in Topeka and video conferencing is available when requested.
Board of Directors Members
Douglas County
2 members
Shawnee County
2 members
Jefferson County
3 members
Ernest Dyer, Secretary
Robert Byers, Chair


Open Seat
Open Seat


Open Seat
Open Seat
Susan Warriner, Vice Chair
City of Lawrence
1 member
City of Topeka
1 member
Larry Hill, Treasurer

Jared Holroyd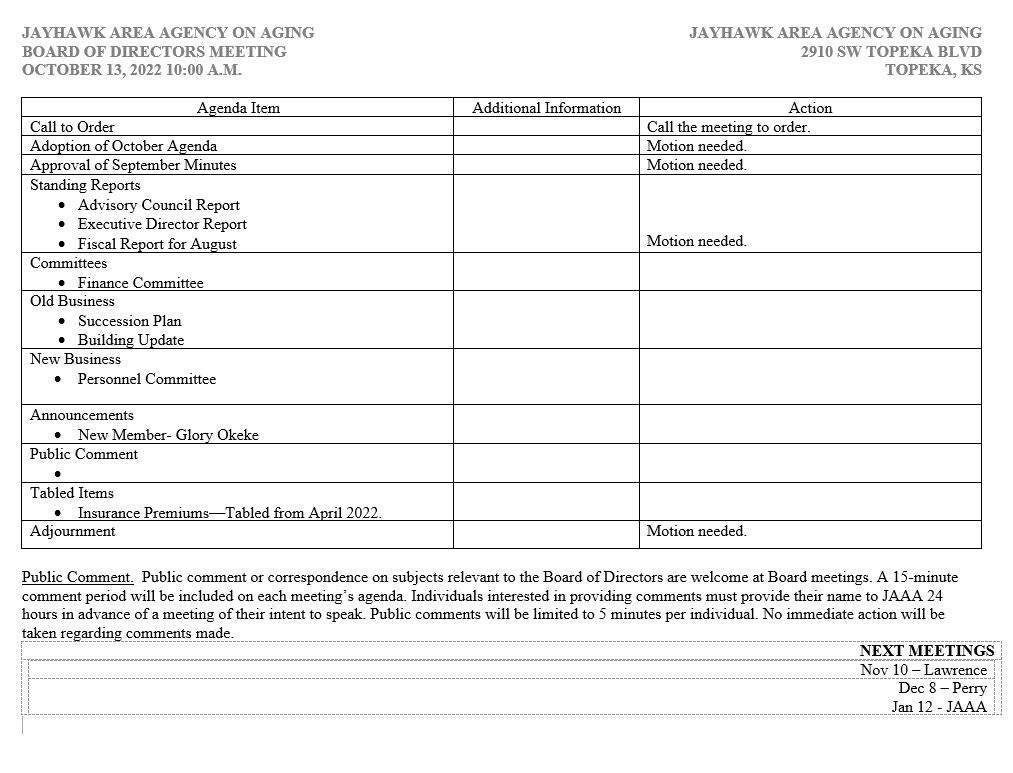 Advisory Council Members
Douglas County
2 Members
Shawnee County
2 Members
Jefferson County
2 Members
Janet Ikenberry
Open Seat
Matthew Pettit, Chair
Open Seat
Open Seat
Open Seat
City of Lawrence
1 Member
City of Topeka
2 Members
Belinda Davis
Karel Ramsey, Secretary
Beverly Hall, Vice-Chair